How to write an effective public comment during the scoping period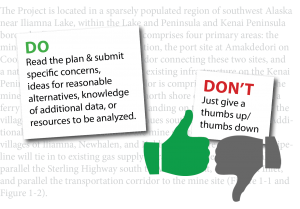 If you'd like your public comment to count during the scoping process, then don't submit a comment saying, "Yes to Pebble" or "No to Pebble."
Those comments, along with other generic statements, like "Protect the water!" or "Dig now!" are not considered "substantive" and will not garner a response from the U.S. Army Corps of Engineers.
On the other hand, substantive comments will be grouped into themes – like Air Quality, Public Health, Habitat, and Socioeconomic Impacts. The Corps will respond to each comment (bundling up those that are similar).
So how can your comment pass the "substantive" test and be considered during permitting for one of the most controversial projects in Alaskan history?
The Corps asks you to be concise, specific, focused and to support your statements with explanations, facts, and references.
Oh, and be sure to turn it in by the deadline, too. (See how much time you have left on our countdown clock).
Think about these Corps questions to help you get started:
What are your specific concerns about this project and how should they be addressed in the EIS?
Are there particular fish and wildlife resources, subsistence activities/use areas, or other places that you use and how might they be affected by the project?
Are there alternative ways of developing any of the components of the Pebble Project that should be considered in preparing the EIS?
And here are some examples of specific concerns:
Wastewater discharges to Frying Pan Lake
Ferry Crossing – Impacts to winter travel due to destruction of ice
Ferry Crossing – Impacts to fresh water seals
Dredging 4 miles in Cook Inlet – Impacts to Beluga whales
Stockpiling of dredge spoils from Cook Inlet channel
Buried gas pipeline – Marine impacts
Impacts to fish, subsistence resources and traditional land uses in specific areas
Need for jobs for Bristol Bay residents
Need for low cost energy in Bristol Bay
Impact of large mining project on Alaska economy
Impact of large mining project on salmon fishing industry
Finally, this scoping newsletter details some of the comment themes that arose during Donlin Gold's public scoping period.
---
Getting Started
The Pebble Project Description and Technical Report can help you understand the project more fully before commenting.  (These documents were downloaded from the U.S. Corps of Engineers Pebble Project site, and from SEDAR, and posted here on March 31, 2018 for reader convenience.)