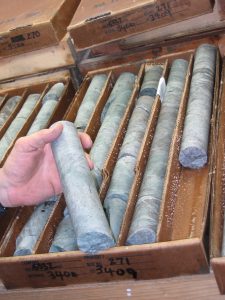 In December 2017, Pebble Limited Partnership (PLP) submitted permitting documents to the United States Army Corps of Engineers (USACE). The application included the developer's vision of a scaled-down mine plan that CEO Tom Collier believes will earn the support of people in the region and the state. Northern Dynasty Minerals CEO Ron Thiessen has stated that the Environmental Impact Statement (EIS) to be created as part of the permitting process "…will show that this is a very normal project, very normal process. Pebble is going to get a permit."
The new plan comes nearly seven years after a detailed Preliminary Assessment of the proposed Pebble mine was released to Northern Dynasty Minerals (NDM) shareholders to illustrate the economic viability of mining the site's large copper, gold and molybdenum deposits. (NDM owns 100% of the Pebble prospect and PLP.)
The process for developing a final plan has included many mining scenarios that have to balance economic goals (to satisfy shareholders) and environmental goals (to satisfy regulators).
Developers believe they have struck the right balance with the 2017 plan, which represents a much smaller mine footprint than originally designed. It will focus on minerals that are closer to the surface and will operate for about 20 years.
When describing the plan at the Denver Gold Forum in October 2017, NDM President Ron Thiessen said they have eliminated geological risks, process engineering risks, and any risks related to engineering. He noted that one positive outcome of EPA's Bristol Bay Watershed Assessment is that the company was able to address all its concerns upfront in detail.
Not a final plan
While the mine plan has been submitted for permitting, it's not final. Mine plans typically do change as a part of the permitting process, in response to regulator input and during the public scoping process. In fact, PLP submitted a technical document outlining changes in May 2018. PLP included a disclaimer in its presentation on the new plan, saying it "includes information that represents some of the current development scenarios we are investigating. We continue to consider various development options and, as such, our current development scenarios may be revised to include adjustments and improvements as the Pebble Project advances." In addition, Thiessen noted at the Denver Gold Forum that other factors can affect mine design and operations: "The reality is mines start off at certain size and scale and then they change. It's not a static business. Sometimes they change for commodity price reasons, other times, to gain economies of scale, or technologies change."
Dig deeper
PLP news release: PLP's proposed plan features reduced footprint and increased environmental safeguards – Jan 6, 2018
Previous documents
Preliminary Assessment
The 2011 Preliminary Assessment, which details early plans for a developing a larger mine, is now available at SEDAR, the Canadian Securities Administrators filing system. (Search for Northern Dynasty Minerals Technical Report NI 43 101, March 22, 2011). According to NDM, the assessment is out-of-date. However, readers may be interested in its level of detail compared to the 2017 plan, or may be interested in historical detail on drilling, metallurgical testing, or needs for operating a longer-term mine site.
Bristol Bay Watershed Assessment (BBWA)
During the process of evaluating potential risks of large-scale mining operations to the Bristol Bay Watershed, the Environmental Protection Agency (EPA) developed hypothetical mining "scenarios" based in part on the 2011 Preliminary Assessment and consultation with mining experts. While mine developers contended these are worst-case scenarios, they also revised plans to address some of the issues detailed by the EPA. The Bristol Bay Watershed Assessment is considered a flawed document by developers. Others disagree, citing the public process and peer review that EPA used when creating the report. A May 2017 legal settlement between PLP and EPA stated that "EPA may use its scientific assessment regarding the Bristol Bay Watershed without limitation.
Northern Dynasty Minerals Preliminary Assessment (2011)