Scoping Period Too Short?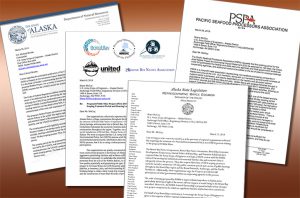 Update – On April 6, the U.S. Army Corps of Engineers announced that it would extend the public comment period another 60 days, through June 29, 2018. Our original post follows below.
---
Just a week ago the U.S. Army Corps of Engineers announced a 30-day scoping process that begins Sunday, April 1.
That timeframe seems too short to some, including The Alaska Department of Natural Resources, Representative Bryce Edgmon, the Pacific Seafood Processors Association, and a consortium of tribal entities, who have all asked for at least 90-120 days. Senator Lisa Murkowski also questioned the 30-day period in an April 3rd letter to the Corps and urged it to give relevant stakeholders "ample opportunity to consider the information provided, as well as sufficient opportunity and forum to provide public comment on it."
There is no indication from the Corps that the scoping period will be extended. Its Scoping Packet outlines expectations for public comments.
What the public is asked to provide over the next 30 days:
A list of alternatives that meet the developer's objective (to build a mine at the Pebble deposit) that are reasonable and practicable.
Input on which factors (such as water quality, fish and wildlife values, historic properties) are most important when the Corps analyzes alternatives, information of specific concern about any factor listed, and any additional specific issues.
Suggestions for resources that should be analyzed, new data or analytic tools that should be used.
When doing so, the Corps suggests that commenters:
Become familiar with the project (review the project website, read the project description, read local news, attend public meetings)
Learn about steps in the NEPA process
The Corps asks that comments be:
substantive
concise
focused
specific
supported by explanations, facts, references
submitted within the public input period (see our countdown clock)
How to write an effective public comment
Updated on April 5 to reflect an additional letter sent by Senator Lisa Murkowski to the U.S. Army Corps of Engineers.