Public comment mixed at EPA Watershed Assessment hearing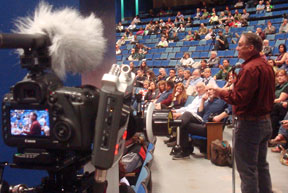 The 900-seat Wendy Williamson Auditorium in Anchorage was nearly full Monday evening, as people showed up to give public input on a draft Bristol Bay Watershed Assessment that the U.S. EPA released in mid-May.
---
Rick Parkin, EPA's lead on the 16-month project, provided highlights of the document, explaining that the Agency had decided to conduct the Watershed Assessment after requests from nine Alaska Native tribes and other groups asking EPA to protect Bristol Bay waters from development of the proposed Pebble mine.
EPA's review included a risk assessment, detailing potential negative impacts of large-scale copper mining on fish, wildlife and Native culture in Bristol Bay. Many who spoke called the Watershed Assessment premature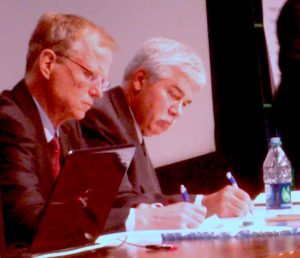 and urged EPA to let the permitting process for Pebble mine continue without interference from a federal agency. Others thanked the EPA for its work, calling it an impartial scientific review.
Top: Former Alaska State Senator Rick Halford commented that in his 24 years in the State Legislature he has only opposed one mine: Pebble. "This one is different and unique," he said.
Left: Rick Parkin and Dennis McClerran of EPA's Region 10, take notes during the public hearing.
More than 100 people gave testimony, with statements limited to two minutes each. Comments were split down the middle, with supporters of the Assessment including fishermen's groups, Tribal members, residents of Bristol Bay, and conservation groups. Those critical of the Assessment included several development industries, including mining, oil and gas, trucking, and builders.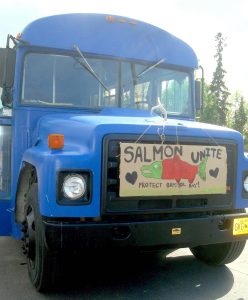 Several supporters of the Assessment called for the EPA to continue its work and implement a 404(c ) action to restrict large-scale mining in Bristol Bay. Others questioned EPA's right to conduct the assessment in the first place, and visually showed their displeasure by wearing bright green "Hands off Alaska" signs.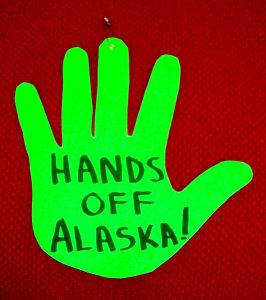 John Shively, CEO of the Pebble Limited Partnership, said, "We recognize that EPA has a right to do the Assessment, but don't think they've done it correctly, particularly if it is followed by a 404(c )." He questioned the timing of the assessment, asking why there are only 60 days to comment.
Jason Metrokin, Bristol Bay Native Corporation's CEO, thanked EPA for conducting the review and noted that people want to politicize it. "EPA is an invited guest by Tribes and BBNC. Science will show that salmon are worth protecting and our shareholders agree."
Anders Gustafson of the Renewable Resources Coalition, told EPA, "We've been screaming at the top of our lungs for years asking someone to take a look at what would happen," noting that if impacts from mining aren't assessed locally, "it's perfectly reasonable for EPA to do it."
Rick Rogers of the Resource Development Council (RDC) stated that EPA has not given adequate time to review the Assessment, and that RDC members are "fearful of future preemptive strikes." He said the EPA "needs to be reminded that Alaska has a proud history of making sure that mining and fisheries can coexist."
Recurring themes from other public comments included:
Critical of assessment

EPA should let Alaska's permitting process proceed without getting involved.
EPA should extend public comment period to at least 120 days.
EPA's Assessment is premature and rushed.

In support of assessment

EPA was invited to Bristol Bay and is doing its job under the Clean Water Act.
EPA's timeline for public comments is adequate.
The Assessment is an impartial, comprehensive scientific review of the Bristol Bay watersheds.
A handful of people gave the EPA specific suggestions on how it could expand or change the Watershed Asessment:
Expand research to all freshwater fish in the area.
Look into impacts from fugitive dust from mining operations.
Review in more depth secondary and tertiary impacts from mining activities.
Include engineers on the team looking at mining impacts to benefit from their knowledge.
Existing mines EPA studied are in arid climates; take into account that Bristol Bay is a very wet region.
There may be centuries of treatment of waste necessary. Assess how much that will cost.
Include benefits of hard rock mining as well as the risks.
Comments were taken until nearly 10 p.m., with around 75 people still in attendance at that time. EPA continues its public hearings this week at different locations in Bristol Bay and will accept written testimony through July 23.
Schedule of meetings at EPA website
Pebble Watch Explores Guide to the Watershed Assessment

Additional media coverage of the event
Pebble mine: Hundreds turn out to voice support, opposition of EPA assessment (Alaska Dispatch)
Alaskans comment on Bristol Bay mining study (Business Week)
EPA Bristol Bay Watershed Assessment Draws Hundreds in Anchorage (KSKA – alaskapublic.org)