Pebble Permitting Timeline Released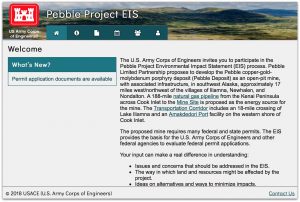 The United States Corps of Engineers (Corps) has developed the Pebble project EIS website, where you will be able to track official information about the process, including permitting documents, meeting times, and an overall EIS schedule.
Public input is an important part of the EIS process. Initially, the Corps is asking the public to respond during the comment period (April 1-April 30) with:
• Issues and concerns that should be addressed in the EIS.
• The way in which land and resources might be affected by the project.
• Ideas on alternatives and ways to minimize impacts.
Want updates on the permitting process, public input periods any more? Sign up for the Pebble Watch newsletter and get news by email.
Additionally, you can sign up for the Corps Pebble project mailing list to receive its newsletters at your mailing address.