Northern Dynasty finds permitting funder, potential partner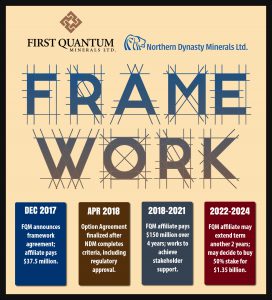 First Quantum Minerals Ltd. (FQM), based in Canada, announced Monday that it has entered into a "framework agreement," with Northern Dynasty Minerals Ltd. that will help fund the permitting process for the Pebble project and could lead to a 50% partnership after an initial four-year term.
Within five days, an affiliate of First Quantum Minerals will be cutting a check to Northern Dynasty for US$37.5 million in anticipation of signing an "Option Agreement" with Northern Dynasty by early 2nd quarter 2018.
But Northern Dynasty has to get some regulatory approvals before the agreement is finalized. Here are FQM's conditions:
– due diligence completed to the satisfaction of First Quantum Minerals
– necessary regulatory approvals obtained
– successful negotiation of the final form of the Option Agreement and associated commercial agreements
Some terms of a future Option Agreement have already been detailed in the framework agreement released Monday:
– The Option Agreement is for an initially term of four years
– The Option price is US$150 million, payable in equal $37.5 million amounts over the four year term
– The affiliate has the right to extend the term of the option for two more years
– The FQM affiliate will be entitled to earn 50% interest in Pebble Limited Partnership, by investing an additional total amount of US$1.35 billion in the Pebble Limited Partnership.
Good news for shareholders?
Supporters of the Pebble project have been waiting for a partnership announcement ever since Anglo American left the project in 2013. During that time, Northern Dynasty has struggled with the financing needed to complete a mine plan, submit a permitting application and conduct several legal battles with the U.S. Environmental Protection Agency.
Today's news is likely not the full-throated approval supporters were hoping for, but it does provide enough backing to fund the next steps in the project's development, including further exploration of the resource and initial steps toward permitting, which Northern Dynasty has promised will happen by the end of this calendar year.
Shares of Northern Dynasty initially fell nearly 17% this morning. According to one analysis, from Rich Smith at Motley Fool, this could be due to a reduction in the amount of profits Northern Dynasty Shareholders would receive if the project is realized: "Half the potential profits from this gold rush are being sold off to another investor right at the outset. Given the huge risks that investors are taking in investing in a company with no profits – no revenues even – today, they might not be best pleased at seeing their upside so suddenly and irrevocably capped by this deal."
This profit model shouldn't come as a surprise to shareholders who have been paying attention. After all, Anglo American was a 50% owner. Northern Dynasty needs a new partner or partners in order to further the project, and any new partner will want to ensure the venture is profitable to its own shareholders.
Some questions…
– Who is the First Quantum affiliate that will be funding the project?
– The Option Agreement is anticipated by "early 2nd quarter 2018," which is just over 3 months away. Before then, Northern Dynasty and the Pebble Limited Partnership need to acquire the "necessary regulatory approvals." Which regulatory approvals do they need? Can they get them in such a short time? Should they get them in such a short time?
– The final Option Agreement and "commercial agreements" still need to be negotiated. What will these look like? From NDM's point of view, such an agreement must balance the needs of the investor with the expectations of stakeholders. Getting to a final agreement may be complex, since investors have been sold not only on the Pebble deposit, but on the idea of a "multi-generational" prospect with potential for developing additional copper deposits in the vicinity. However, getting stakeholder buy-in will require convincing locals that mining operations will be limited to ensure environmental safety.
Read More
Who is First Quantum Minerals, Ltd?