Nine public meetings scheduled for Pebble scoping process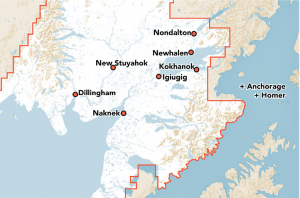 The U.S. Army Corps of Engineers has set the schedule for nine meetings in April when it will accept public comments on what should be included in an upcoming Environmental Impact Statement on the proposed Pebble mine.
You may attend a meeting and give your comment to a court reporter, submit on paper, or submit online at the Corps' Pebble Project EIS site.
Some meetings allow for public comment by microphone. However, the Corps' has stated that will not be available for the Anchorage, Dillingham or Homer meetings due to anticipated large turnout.
A Yup'ik translator will be available to help members of the public submit their comments.
Naknek – Naknek School
Monday, April 9, 3:30 – 7:30 pm
---
Kokhanok – Tribal Hall
Tuesday, April 10, 3:30 – 7:30 pm
---
Homer – Homer High School
Wednesday, April 11, 5-9 pm
---
Newhalen – Newhalen School
Thursday, April 12, 3:30-7:30 pm
---
---
New Stuyahok – Community Building
Friday, April 13, 1-4:30 pm
---
Nondalton – Tribal Center
Monday, April 16, 3:30-7:30 pm
---
---
Dillingham – Dillingham Middle School
Tuesday, April 17, 5-9 pm
---
Igiugig – Community Building
Wednesday, April 18, 3:30-7:30 pm
---
Anchorage – Dena'ina Center
Thursday, April 19, 11 am-9 pm
Learn more about types of comments you might submit
Learn more about the Pebble project before submitting a comment