News Roundup: November 22, 2017
Just in time for your 4-day holiday: catch up on all the news related to the Pebble project that's come up in the past few weeks. If you need more, the EPA has posted more than a million comments it received during the recent public input period. 1,015,530 to be exact.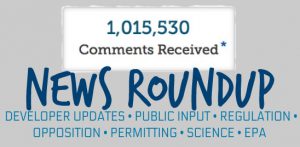 Essential questions
National Geographic takes a look at the Pebble project and asks whether the world needs Pebble mine to keep pace with anticipated global demand for copper and gold.
Developer News
Former University of Alaska Hamilton joins Pebble as vice president of external affairs. Mining News reporter Shane Lasley writes about Hamilton's background and other recent additions to Pebble's engineering and permitting staff.
Legislation/Regulation
The Bristol Bay Native Corporation Board of Directors has taken a position against HB 199 and the Stand for Salmon initiative, which each propose to strengthen protections for salmon habitat. BBNC President and CEO Jason Metrokin was quoted with this explanation: "Notwithstanding BBNC's opposition to Pebble, BBNC believes responsible resource development can take place in Bristol Bay. Development that aligns with local opinion and does not threaten the region's fisheries and fish habitat can and should be given an opportunity to proceed."
What people are thinking
Margaret Baumann incudes several responses to the EPA's proposal to remove proposed restrictions at the Pebble deposit in this article from the Cordova Times. The EPA is going through all comments before issuing its decision. You can read them all too at Regulations.gov.
Alaska Public interviewed Evelynn Trefon in Iliamna to get her take on the Pebble project and how it would impact the local community.
Opposition News
United Tribes of Bristol Bay, which represents tribes aligned against the Pebble project, added another member – Pedro Bay Village Council – as reported in this story by KDLG's Dave Bendinger.
Upcoming
Long-time Alaska reporter Daysha Eaton has written about the Pebble project for years. She's teamed up with editor Joaqlin Estus and photographer Bryan Adams for a 5-part series called "Alaska Water Wars," featured on KNBA radio and at www.knba.org. Listen for it the week of December 4-8 as the communities of Dillingham, Ekwok, Igiugig, Iliamna, Kokhanok, Newhalen, and New Stuyahok are featured.