News Roundup – February 2019
Senate majority takes public temperature on Pebble mine
In January the Alaska Senate majority published an online poll to gather opinions of Alaskans on a variety of topics, including Pebble mine. 7,461 responses were received, with 394 duplicate and out-of-state submissions purged from the final tally. 61% of respondents opposed development of Pebble mine, even if "all environmental safeguards are met."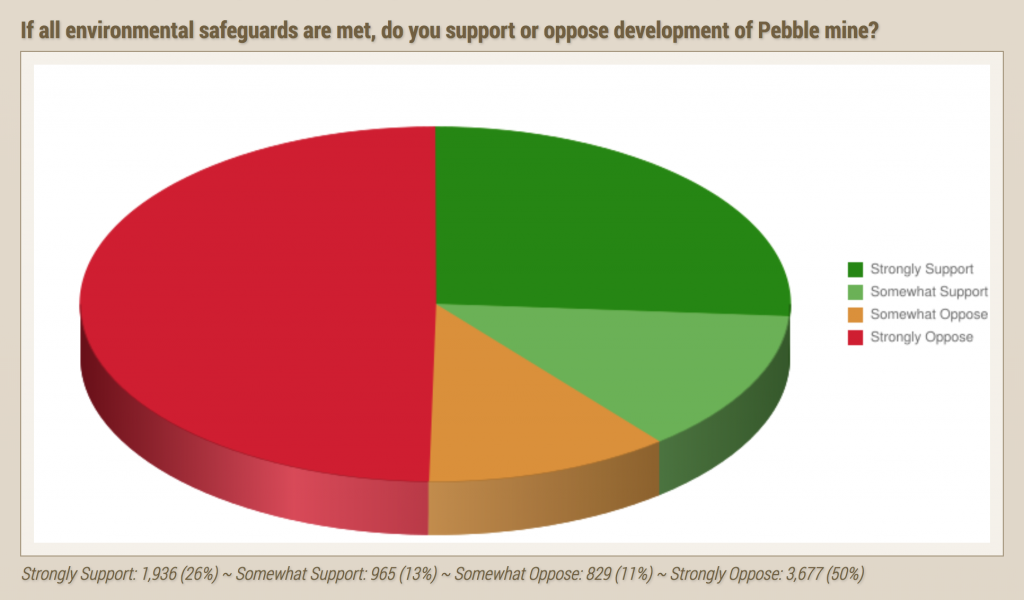 Pebble pays $1M-plus to lobbyists
Pebble Limited Partnership spent more than $1 million in lobbying efforts last year, according to its lobbying disclosure reports. Alaska Public Media reports that it's difficult to tell just how much the mining company spent, however.
Hear more from Liz Ruskin of Alaska Public Media.
See PLP's 2018 spending summary on Open Secrets.
Brune: former Pebble work won't affect DEC role
Last week Jason Brune told Senate Resources Committee members that his past work with a former Pebble mine investor won't affect his position as the commissioner of the Alaska Department of Environmental Conservation. Brune most recently worked as Cook Inlet Region Inc.'s senior director of land and resources, overseeing development and administration of subsurface resources, including oil, gas, minerals sand and gravel, and coal. Brune has also worked as Anglo American's public affairs and governmental relations, and as executive director for the Resource Development Council.
Read Alaska Journal of Commerce reporter's Elwood Brehmer's story.
Also see a story from the Anchorage Daily News' James Brooks on the same subject.
EPA's Wheeler and ethics questions
EE News reported on emails obtained showing that Darrin Munoz, a former colleague of acting EPA Administrator Andrew Wheeler, sought EPA's help for companies associated with Wheeler, according to the emails, which were obtained by Sierra Club via Freedom of Information Act litigation.
This includes emails asking EPA officials who would be handling a section of federal law that calls for health and environmental protection standards for uranium and thorium mill tailings. The message from Faegre Baker Daniels Consulting Director Munoz thanked the EPA officials for their time meeting with Munoz and "folks from Pebble Mine."
The emails bring into question whether Wheeler is properly following ethic rules, and is not recusing himself in making decisions in areas of which he has past business relationships.
E&E News reporter Corbin Hiar has the story.
Smith Weekly interviews Northern Dynasty Minerals Ron Thiessen
"There is no question it's going to be built," says Northern Dynasty Minerals' CEO Ron Thiessen, of the proposed Pebble mine. Investment research company SmithWeekly conducted two lengthy interviews with Thiessen. Topics include how NDM came to acquire the Pebble deposit, funding mechanisms, how the company came to the decision to present a smaller mine footprint, mine design, the EPA, permitting and construction timeline…and chicken poop (Part 2, minute 33:30).
Part 1 of the interview (1 hour, 15 minutes)
Part 2 of the interview (1 hour, 6 minutes)
What the Dunleavy administration means for the proposed Pebble mine
"One of the most controversial issues Alaska's leaders have ever had to wrestle with is the proposed Pebble Mine. The new governor is no exception." Alaska Public Media's Elizabeth Harball and KDLG's Avery Lill analyze how the new state administration might affect the potential to develop Pebble mine.
Dirtbag Diaries podcast on the proposed Pebble mine
This hour-long podcast highlights concerns regarding the proposed Pebble mine, focusing on potential effects on bears near the proposed transportation corridor. Hear comments from wildlife viewing guide Drew Hamilton, Cook Inletkeeper's Bob Shavelson, Alaska Mining Association's Deantha Crockett, Council of Alaska Producer's Karen Matthias, and Pebble Limited Partnership's Mike Heatwole, among others.
Mount Polley to close due to low copper prices
Mount Polley, the British Columbia mine that experienced a tailings dam breach in 2014, is stopping operations in May due to low copper prices. Owner Imperial Metals says operations will resume when the economics of operating the mine improve. Readers may recall that Mount Polley's breach raised concerns in Alaska over the potential for a similar disaster if the Pebble mine were to be developed. The Mount Polley breach was determined to have been caused by an initial design flaw. In 2015, Pebble Limited Partnership stated it would submit the engineering design for the project's tailings storage facility to an independent review prior to initiating permitting."
 More about the Mount Polley closure
Brazil tailings dam disaster
U.S. regulations for tailings dams are reportedly more stringent than Brazil's, but a dramatic tailings dam failure near Brumadinho Brazil in late January underscored the importance of mitigating risk at such impoundments, and the need for ongoing oversight long after mines have shuttered operations. Bloomberg's Stephen Lee talks with tailings dam experts, as well as environmental groups that have raised concerns about existing tailings dam facilities in the United States.