HB77 discussion reveals high level of public distrust
More than 200 packed an Alaska Experience Theatre meeting room in Anchorage earlier this month for a discussion of House Bill 77, a piece of legislation Governor Parnell has said "reforms and streamlines" the permitting process. Not everyone sees it that way. Detractors have nicknamed the bill the "Silencing Alaskans Act,"voicing concerns that it would actually result in projects being pushed through without public input. Agency representatives from the State of Alaska Department of Natural Resources (DNR)responded to concerns by describing some issues that the legislation seeks to correct, and said that silencing Alaskans was not their intent. For a rundown of the topics raised, links to relevant resources  and other related facts, please see the Pebble Watch summary that follows.
The Anchorage gathering followed similar meetings in Homer and Soldotna, which also drew out large crowds of citizens displeased with HB77. Those meetings were held at the request of State Senator Micciche (R-Soldotna); testimony given there enters the public record on HB77. In November, DNR had said it was not feasible to hold public hearings on HB77, but that it would be open to meeting with individual stakeholder groups.
The Anchorage meeting was organized by a "coalition" of several groups, who invited agency and stakeholder representatives to speak about HB77. The coalition includes Alaska Center for the Environment, which told Pebble Watch it has been engaging its members regarding HB77 since last session and wanted them to have an opportunity to learn more about the bill and to ask questions of DNR. At least twenty people voiced their opinions at the meeting, with dozens more comment cards submitted. (These won't enter into official public record, butDNR representatives separately told Pebble Watch they would be taking comments back to the agency)
Every person who spoke had concerns with HB77. When the allotted time for comments was up, audience members called for a show of hands supporting and against HB77. No hands were raised in support.
Agency panelists included:
Stakeholder panelists included:
Dan Cheyette, Associate General Council, Bristol Bay Native Corporation
Dave Lyon, 

business owner, Kachemak Bay water taxi

Lisa Weissler, attorney with expertise in natural resource law
Courtenay Gomez, Dirctor of Natural Resources, Bristol Bay Native Association
Topics of concern
General permits – HB 77 would give the Commissioner of DNR, Ed Fogels, the authority to issue a general permit, so that permits could be renewed rather than go through the process of re-permitting for the same purpose. According to the agency, this authority would only be used for projects that have little to no environmental impact.
Aggrieved persons – Under current statute, any "aggrieved person" can appeal a permit decision. Under HB 77, the person would have to be "substantially and adversely affected" by the project and would also need to have "meaningfully participated" in the permitting process – typically by submitting written or oral testimony.
According to DNR panelist Brent Goodrum, current appeals sometimes amount to little more than "I don't like this idea," making it difficult for staff to respond with a formal decision. The change proposed under HB 77 would effectively limit who can appeal a decision, and many meeting attendees were concerned by this, stating they want a clear definition of how the State would define who is "substantially and adversely affected."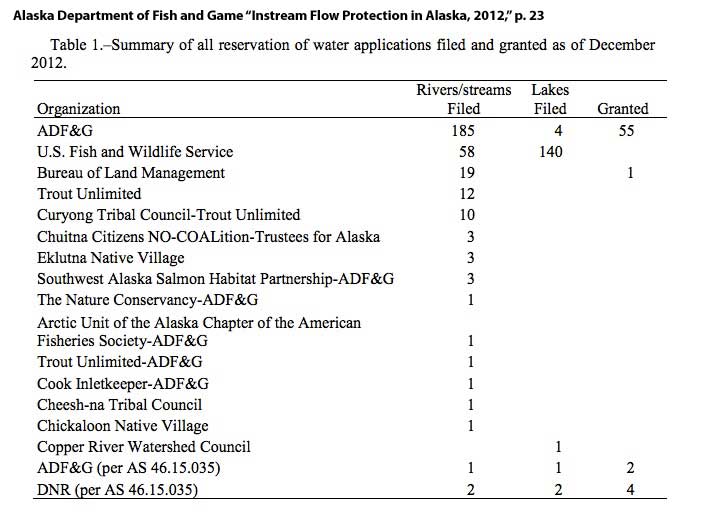 Existing water rights applications – Under current law, water reservations (also called "instream flow reservations") can be made by private individuals, organizations, and government agencies. HB77 would change that, by limiting water reservation applications to government agencies only. According to a 2013 report from Alaska Department of Fish and Game, there were 35 instream water reservations from individuals or organizations that were pending with DNR at the end of 2012;  some of these were filed years ago. BBNA panelist Courtenay Gomez stated that her organization alone has spent $500,000 on instream flow applications over the years, gathering data and "perfecting" the applications.
However, according to a summary document prepared for Senate review of HB77, no instream flow reservation certificate has ever been awarded to an individual. If HB77 were to pass, existing applications from individuals and organizations could only be considered if assumed by another government agency. ADFG panelist Randy Bates said his agency has a long history of partnering on such applications and would be willing to assume those that are currently pending, using data that has already been gathered.
Hydroelectric study – At the end of the last legislative session, HB77 was combined with Senate Bill 32; the full bill now includes language related to authorizing a hydroelectric study in Wood-Tikchik State Park:
"An Act relating to the Alaska Land Act, including certain authorizations, contracts, leases, permits, or other disposals of state land, resources, property, or interests; relating to authorization for the use of state land by general permit; relating to exchange of state land; establishing that performance of a feasibility study for the development and operation of a hydroelectric site at Chikuminuk Lake is not considered an incompatible use of the Wood-Tikchik State Park; relating to procedures for certain administrative appeals and requests for reconsideration to the commissioner of natural resources; relating to the Alaska Water Use Act; and providing for an effective date."
BBNC Panelist Dan Cheyette questioned this addition, saying that the feasibility study is now "hidden in HB77" and that the two bills are as alike as "apples and oranges." He called for the bills to be separated and considered on their own merits.
History and current status of the bill – HB77 was transmitted to the House by Governor Parnell on January 18, 2013. It was approved by the House on March 4. The Senate read it on March 11, and it has been in the Rules Committee of the Alaska State Senate since April.
Next steps – There may be additional public meetings; DNR has received requests to visit other areas such as Chickaloon, which has a water reservation application in progress.
Learn more
Photos of event
Visit our Facebook page for a photo album from this event
HB77
Additional documents and public testimony
March 2013 Briefing to Senate Finance Committee – gives background details on major components of HB77
DNR Testimony – regarding HB77
DNR Testimony – general permitting process
Instream flow reservations
Reserving water for instream use– current DNR fact sheet
Instream Flow Protections 2012 – ADFG report
Water Rights and Reservations Database – Search for current and pending application details
Related news stories
Public tells commissioners HB77 concerns