Ground truthing Pebble's proposed transportation corridor
Blending science, wilderness travel and local insights
Pebble Watch interviewed Rachel James, Salmon State's Bristol Bay Campaign Coordinator, about her 4-day recreational hike from Kamishak Bay to Kokhanok, Alaska. While Salmon State opposes the Pebble project, James says she undertook this trip independently to understand more about the landscape that could become a transportation corridor for the proposed mine.
The Kamishak Gap is a low-lying area through the Aleutian Range that connects the southwest Alaska mainland with Cook Inlet. Here the weather is famously dynamic, with frequent rain in the summer and strong northwest gap winds gusting through. It's a course that's been traditionally used by Alaska Natives travelling from the southeastern shores of Iliamna Lake to western Cook Inlet for subsistence activities. And it's the place where developers of the proposed Pebble mine hope to build an 85-mile transportation route, with a ferry terminal on one end and a port on the other.
In August, Rachel James, along with companions Erin McKittrick and Jayme Dittmar, walked from the proposed port site, Amakdedori, to Iliamna Lake over four days. It was an attempt to "ground truth" much of the proposed corridor. "It's a way to get out on the ground literally to see if the political issues line up with what is actually going on," explained James. "Ground truthing the proposed transportation corridor gave us a chance to talk to people and to get a sense of what resources the development will impact."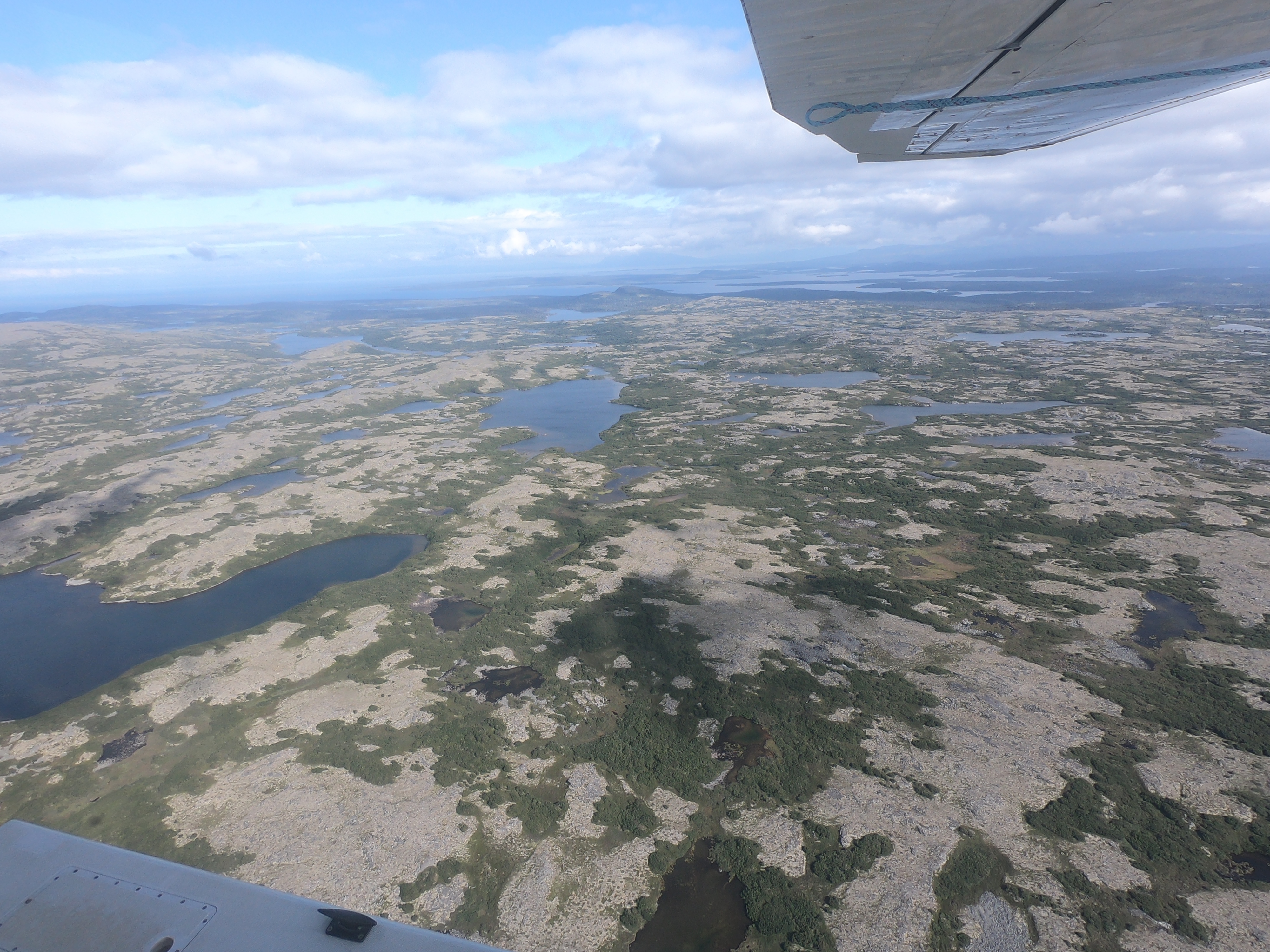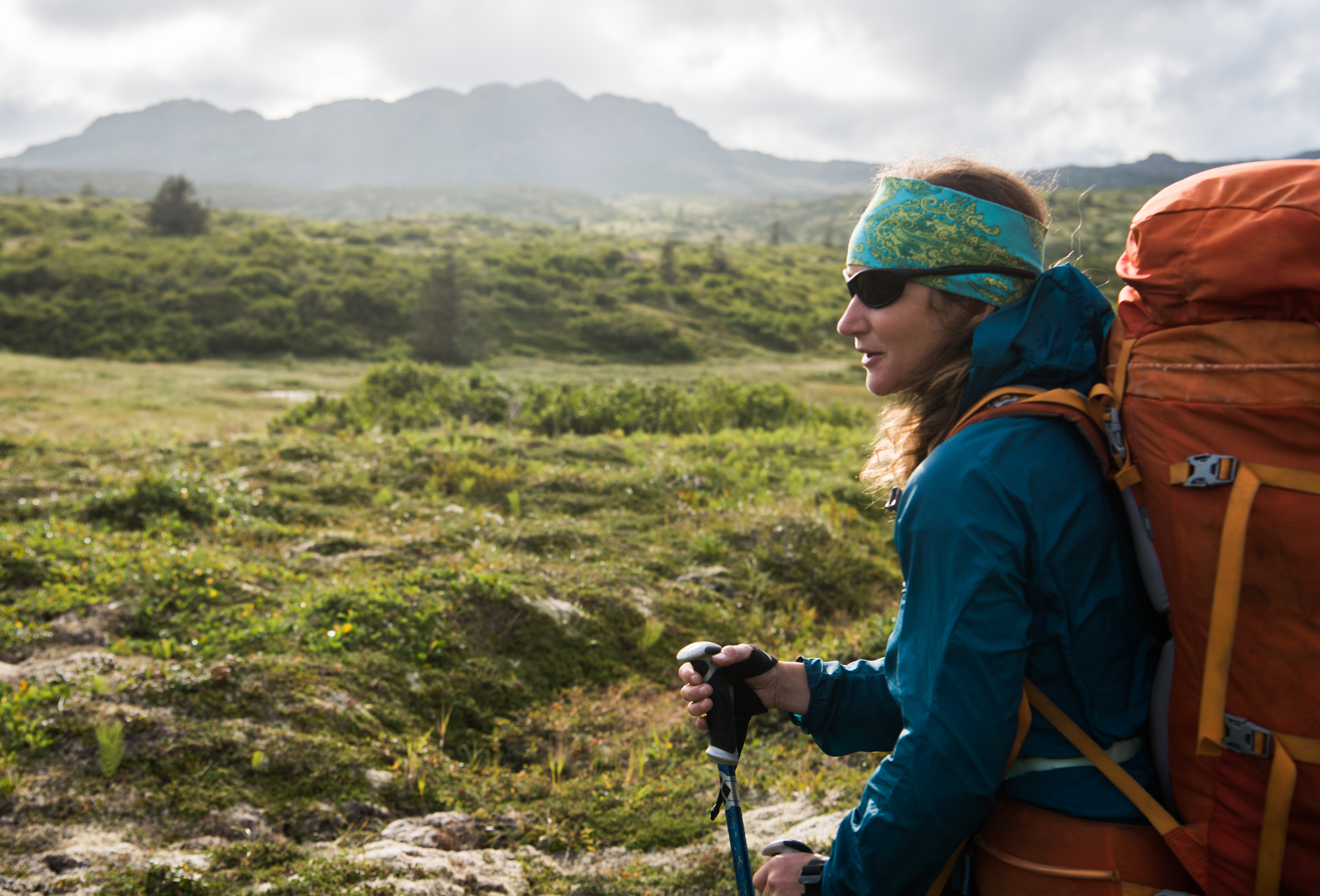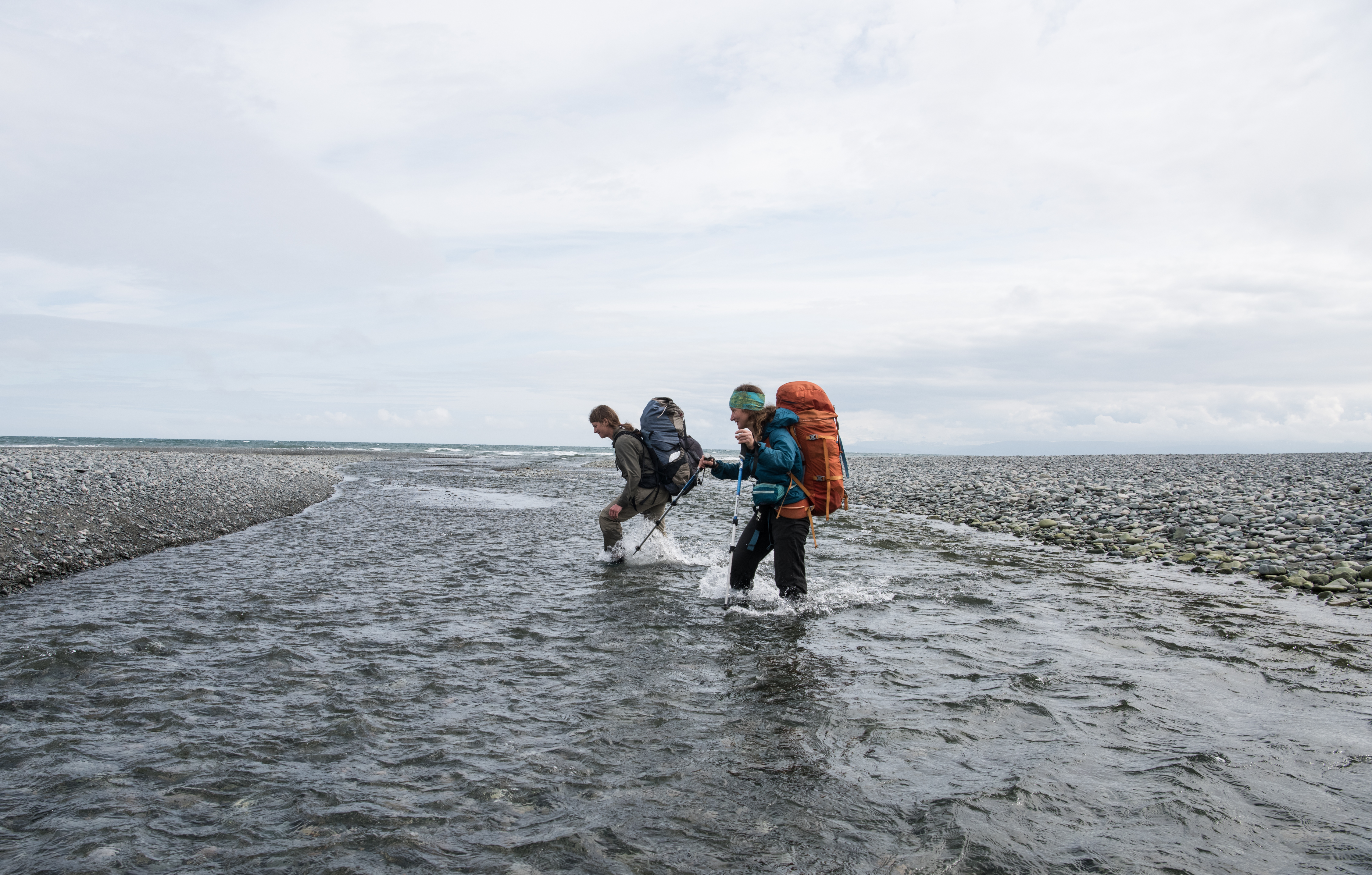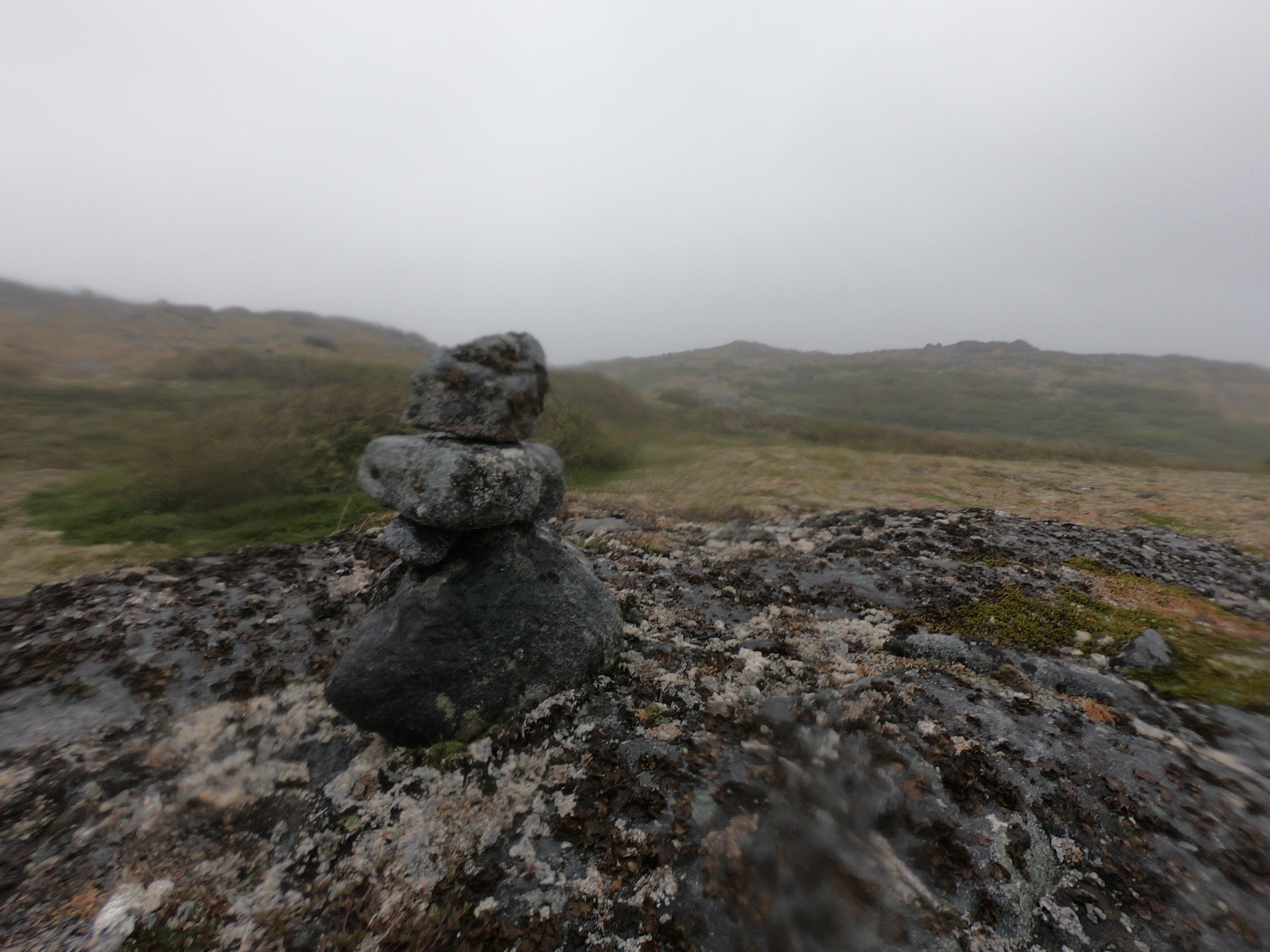 Kamishak Gap from the air
Departing Amakdedori Beach
Crossing Amakdedori Creek
Getting a local perspective on controversial projects has motivated James throughout her career. "I grew up in the Matanuska Valley and my dad worked on all kinds of resource development projects, including Red Dog," she said. A land surveyor, her father traveled a lot and told her stories about development, pro and con. This inspired her to get into the field of land management, ultimately ending up with a degree in natural resource policy and a graduate certificate in natural resource conflict resolution from the University of Montana. Along the way she logged plenty of miles in the backcountry as a mountain guide and outdoor educator.
After returning to Alaska, James worked at the grass roots level with communities impacted by resource management plans being developed around the state. She traveled to communities in the National Petroleum Reserve at a pivotal time. "I got to see socioeconomic and cultural impacts of development planning processes. Getting to know a community over the years as it's inundated with companies and land managers, and watching how those impacts translate out to the tribal council and village corporations to the regional level – I gained a lot in understanding the environmental and socioeconomic impacts and pressures that major resource projects have on communities."
The idea for the Amakdedori trip came about as she pored over maps of the area. "I am completely fascinated with maps and geography," she explained. "When I saw Pebble's permit proposal this January, I observed the new transportation route. I had studied up on the previous plan for a Williamsport/Pile Bay northern route. This Amakdedori to Kokhanok route was fascinating and not many people could answer questions I had about it. The idea was spawned pretty quickly that I needed to go see it and learn more. I dug in and talked to quite a few local people from Iliamna Lake region, including Kokhanok, and started to put together the logistical pieces to get out there and hike it."
Inviting along additional companions was as much about sharing the journey as it was about savvy traveling in bear country. With parts of the route being as close as one-third of a mile from the famed McNeil River State Game Sanctuary and Refuge, group travel was a must. The trio camped each night inside an electric bear fence and carried bear spray and a gun as further precautions. While they saw plenty of tracks, they surprisingly didn't encounter any bear. James speculates that poor weather may have been a factor, as the hikers battled near constant sideways rain and 50 mph winds.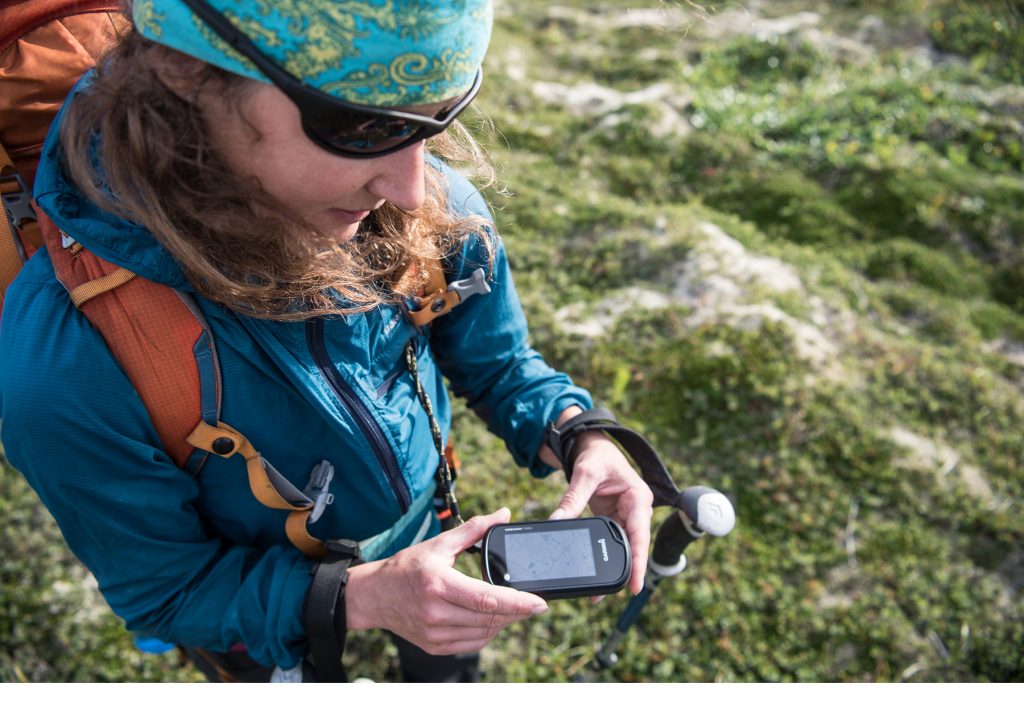 This was hardly the first challenging trip into the backcountry for James. Years living and working in remotely in Patagonia, which also has wild weather, was excellent training for the Amakdedori trek. So was a 6-week expedition crossing the Wrangells, a traverse of the Coastal range from the Yukon to British Columbia to Alaska, mountaineering in the coastal glaciers of Tierra del Fuego and Cape Horn, and a successful venture to a remote volcanic hot springs on the Alaska Peninsula.
As with all her treks, she did her homework beforehand. "I studied satellite imagery, meteorology information, talked to many pilots, and spoke with an Elder who had done the seasonal trip with relatives from Iliamna Lake to the coast." She also researched a notable shipwreck. "The more dimensions you can understand about a place beforehand, the more lenses you have to look at the trip through," explained James.
Her own lens is informed by a worldview that there are finite resources in Alaska, and a lot more interconnectedness and implications with how we live and work with our landscape. "To fully understand the scope of a controversial project, it's best to see the place and talk to the people on both sides who have the most at stake. I've always tried to do that, whether in a Wyoming oil patch where I worked on a ranch and trained horses, or in Patagonia where there was controversy about hydroelectric projects."
For others who are interested in ground truthing or recreational adventure in remote areas, James says planning is critical. Start out by getting a land status map. You might have to budget for permits to travel on public lands, and negotiate with private owners for access to their property. Talk with locals too, as you may get important information not on any map. For example, James' well-planned route across the Island of Tierra del Fuego was quickly revised when locals informed her it would expose her to land mines placed by the Argentinian military.
During the research phase for the Kamishak Gap trip, James learned that it's a very dramatic feature, almost a weakness in the rugged Aleutian Range. Having spent many years pursuing icy climbs in high peaks, she found the actual hiking through the low-lying pass fairly easy (aside from the harsh weather conditions). The travellers used a GPS to follow the route of the proposed transportation corridor as closely as they could, unless there was a large geographic obstacle, like thick vegetation that would require a lot of bushwhacking. The 50-mile trek was "pretty wild" in that you could see either the coast or the Iliamna Lake for most of the journey.
There haven't been very many recreational hikers who have traversed the Kamishak Gap area that James explored. The Amakdedori-Iliamna Lake route is a new idea, for Pebble, said James. There is very little baseline data – just one summer of field work – to characterize it, compared to much more information collected about the Williamsport-Pile Bay route that was previously analyzed in earlier iterations of Pebble's project.
She wanted to see for herself what's there, in part to have credibility when making comments on a draft Environmental Impact Statement the U.S. Army Corps of Engineers has planned to release early next year. She also wants to raise awareness with Alaskans that Pebble is in the permitting process, and to highlight the geographic range that would be affected by the industrial port and transportation corridor as impacts and alternatives are analyzed. She believes that many resources are at stake.
Pebble has proposed a transportation corridor that includes 83 miles of double lane roads plus additional spur roads to three villages. These would require 229 water body crossings, with 7 bridges, 73 fish passage culverts and 149 drainage culverts. The port would include on-shore facilities and two off-shore lightering locations.
Activity at the port would be a major issue with the local brown bear population, noted James. "Bears move along the beach and in the maritime band between McNeil and in the north. There will be a lot more habituation and defense of life and property." Kamishak Bay also supports herring, scallop and salmon fisheries, and it's a known resource for harvesting razor clams in the spring. Weather conditions, including strong winds, along with winter ice and other factors make the risk scenario heightened for potential spills as concentrates are transferred from port to larger vessels off-shore. The use of a type of heavy fuel oil, which recently was banned in the Arctic by the United Nations group that regulates international shipping, is also a concern, said James.
Moving inland, James noted numerous salmon streams and evidence that the Kamishak Gap serves as an animal crossing for large land mammals such as caribou, moose, and bear. There are known cultural sites, although the short nature of the hike precluded her from seeking them out.
She did recall one surprising find: "We had our heads down on the GPS following the red line. The visibility was in and out, winds gusting at 50 miles an hour, rain coming down and suddenly this chest-high cairn of rocks appeared. It was the only human thing we saw in a few days. It could have been from miners, trappers or from people walking through, but it looked ancient. It was an amazingly powerful thing to encounter."
Those kinds of moments are exciting for James, and are the types of experiences you can only have when you aren't on a packaged tour. "When you put effort in ahead of time, do your own logistics and use local providers, you're more open to opportunities that arise as you go," said James. "The spirit of ground truthing is encouraging people to pursue information gathering and adventure together. Just going as a scientist to collect data, or to interview people, or as a wilderness traveller are all more specific approaches. But when you combine them holistically, you end up with a story of your interactions with the landscape, biotic and the human world. It's compelling narrative to share with people who are interested in that same topic or place."
Read more about James' Kamishak Gap trip here:
Walking the umbilical cord to Pebble's proposed mine
Activists travel Pebble Mine's proposed transportation corridor
More about transportation corridor options
While the Amakdedori route is included in the current Pebble project proposal, developers are still looking at alternative port sites and corridors, particularly a northern route between Williamsport and Pile Bay. Read more here.