"Go with an open mind, open heart, open ears…"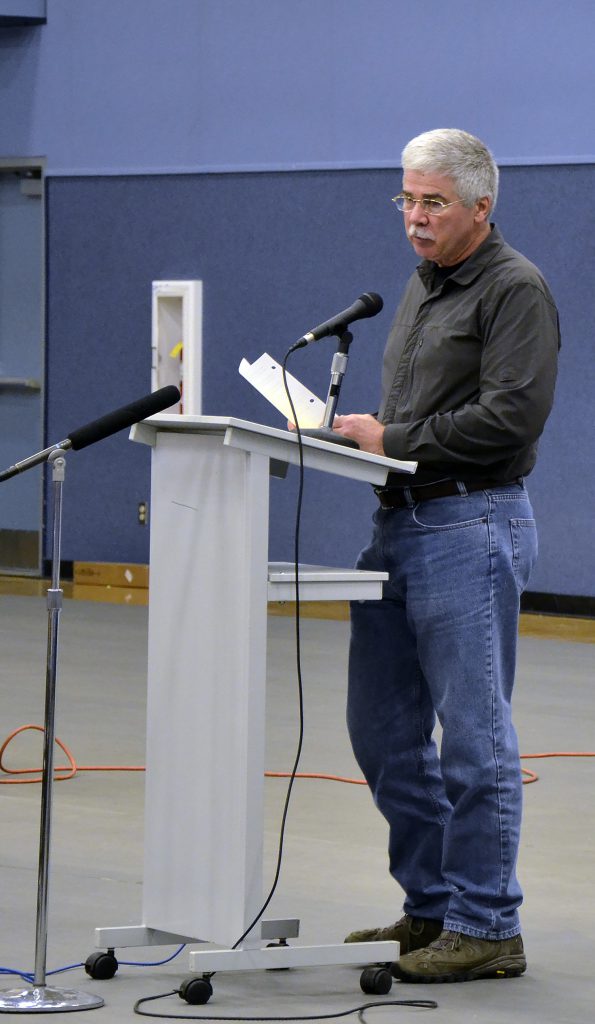 Our interview with Dennis McLerran
With EPA visits to Bristol Bay coming up this week, we decided to interview a former EPA administrator regarding his impressions of the region.
Dennis McLerran served as the U.S. Environmental Protection Agency's Region 10 Administrator (covering Alaska, Washington, Oregon and Idaho) from February 2010 to January 2017. Under his watch, EPA developed the Bristol Bay Watershed Assessment and proposed restrictions for large-scale mining activities at the Pebble deposit. It also battled the Pebble Limited Partnership in court between 2014 and 2017. The lawsuits were settled May 2017 under new EPA Administrator Scott Pruitt.
Now that his run as Region 10 Administrator is over, McLerran has joined a Seattle-based law firm. We interviewed him about his time at the EPA, his visits to Bristol Bay, and his advice for EPA administrators who will venture to Bristol Bay later this month for more public hearings.
Pebble Watch: Now that you aren't with EPA any longer, can you reflect back on what happened over the last few years, with the Agency's attempts to protect the Bristol Bay watershed?
Until you've seen the Bristol Bay watershed, it's hard to imagine its richness and scope and scale. From the very beginning, when we were petitioned by the native groups to protect the watershed, there was disappointment that we were going to do more study. But it was necessary to take more time and know more. It was a deliberative process with sound science, and we heard from everyone on all sides before making up our minds. It's been very difficult to not speak out during the litigation, because it's a false narrative that there was lack of due process. People need to counter that narrative. We followed due process at every step.
PW: Where did you live growing up, and when did you first visit to Alaska?
McLerran: I've lived in Washington all my life. I grew up in the rural part of the state and then went to University of Washington. I took my first trip to Alaska the summer before my first year in law school. That was when Jimmy Carter had first designated the Wrangell -St. Elias as a wilderness area. I went on a long hike between the Copper and Kennecott Rivers. I also went to Denali. On another trip I paddled around Glacier Bay, into the West arm and back.
Pebble Watch: How many times did you get to travel to Bristol Bay in your capacity as EPA Region 10 Administrator?
McLerran: I traveled there four times, sometimes just to Iliamna and the Pebble site. I went to Dillingham three times and touched a few of the other villages then. I also tried to bring people from D.C. that were in the decision making loop. I brought Administrator Lisa Jackson and Gina McCarthy out there, and President Obama ultimately visited.
PW: What impressions did you have about the land?
McLerran: I learned a lot through the visits we made, through the watershed assessment, and hearing directly from the people. One of the most powerful meetings I've experience in a very long career, was in the gymnasium in Dillingham. The kids had put pictures and posters on the wall lining the gym, showing their summer with Elders, showing how to fish, and how to process and dry the fish. Just hearing from people that for over 10,000 years have been depending on the subsistence economy, and now the cash economy with jobs and fishing. Hearing about the combination of culture and reliance on the fish for both subsistence living, and as a source of jobs and income. And the landscape itself: there is no place I've been that's like Bristol Bay: the pristine and untouched watershed, where millions of sockeye salmon reliably come back every year because we haven't disturbed the landscape.
In the Pacific Northwest, we're spending literally billions of dollars to recover the salmon in the Columbia basin and other watersheds in Western Washington around Puget Sound, and Canadians are doing the same in the Fraser River. Bristol Bay harkens back to what it was like 200 years ago here. To lose another watershed would be very, very shortsighted.
PW: And your impressions of the people?
McLerran: The people are direct and honest and committed to the land. They have a connection to the fish and the subsistence hunting and berry picking that is admirable. The fact that the people were able express that connection during the public process and bring it across in a very strong way, along with technical comments, was very impressive.
I remember being impressed by a conversation with Dorothy Larson, who talked about what it would mean economically and spiritually if they didn't have subsistence foods. As representative of the Curyung Tribal Council, she shared a list that showed it would cost her family $40,000-$60,000 a year to replace the protein they gathered from fishing and hunting with an equivalent amount of protein from the supermarket.
PW: What advice do you have for current EPA staff who will be traveling Bristol Bay this month for the first time?
McLerran: Logistics are different in Bristol Bay, so when you get up into the watershed….to Ekwok, New Stuyahok… places where some of the Elders don't speak English, it's important to have those translators to hear from those Elders, to hear from people in the heart of the watershed. We had a crew of folks organizing our public hearings to ensure cultural sensitivity was part of what EPA built in to the process. We approached the watershed assessment saying we did not yet know enough to make decisions. We went out multiple times to listen to people, whether they were pro or anti, to gather as much science and solid info as we could from those visits.
My advice is to make sure you meet with a diverse audience and that you hear from as many people as possible and not just one side of the issue. It's really important that you go with an open mind, open heart, open ears… to listen. Go out there to meet with a broad spectrum. Don't just go out with the mining company – go listen to the people.
PW: What kinds of foods did you enjoy in Bristol Bay?
Clearly the fish! And certainly I enjoyed moose and caribou and just about everybody had those. When a community hosted us, they served subsistence based foods. I know how hard it is to gather those. I always felt it was a strong statement when people reached out and shared their local foods.
PW: The Watershed Assessment and the Proposed Determination received more public comments than any other documents in EPA history. What do you think about that? Are you proud of the work?
McLerran: I'm certainly proud of the process we went through, gathering existing science on the fishery, holding pubic hearings, creating comment opportunities for people on all sides of the issue, making sure we understood their perspectives and put that into play. Due process was given folks on all sides. It was a very robust and rich process. People really took it seriously. It went from small hearings in villages where there might be 100 people, to Anchorage, where there were close to 1,000 people in an auditorium split between pro and con. That was extremely important in terms of informing the process, to have people bring ethical experts to the conversation, submit comments, and give testimony. It was incredibly important to creating a record that we could make decisions on.
PW: Did you make any mistakes?
McLerran: I always felt that the lawsuits that were filed were without merit. If we could've pushed the Department of Justice to act a little more quickly, forcefully and aggressively, it would have helped. When you're in litigation, the other side is oftentimes trying to delay. And it did delay us enough that we couldn't finish what we started.
But the watershed assessment and all of the public comments still live on, as they will in this process to reconsider the proposed determination. It wasn't wasted effort and will inform the process going forward.
PW: How did EPA deal with public comments when you were there?
McLerran: We did read every single comment that came in, and wrote a response whether they were pro mining or raising concerns about mining. Form comments get combined together, but the public testimony, the traditional knowledge brought together with western science…all of those were important elements of what the impact of large-scale mining would be on the watershed. The whole process of meeting with people locally and going out to the proposed mine site helped give the bigger picture. With more mining claims and the area opened up with an access road, it's likely you'll have a mining district. There was lots of enlightenment gained from public comments, which gave a richer and fuller picture of the science, as well the context.
PW: What advice do you have for people who want to submit comments?
McLerran: Make sure your views are known during public hearings. In my opinion, that testimony is particularly powerful to make sure we are covering things important to people in Bristol Bay. It was important to our decision-making.
PW: You were in charge of an area that included some very gorgeous landscapes. Out of all the places under your purview as Regional Administrator – Alaska, Oregon, Washington and Idaho, what are some of your favorites – or where would you visit again now that you're off the job?
McLerran: I was fortunate to be the Regional Administrator for the most untouched and beautiful places in the country, and I had wonderful experiences. There are lots of places to get back to. I recently took a bike trip up through the northeast corner of Washington into Idaho and Canada, through the Colville Reservation.
Much of Alaska is stunning and I had the chance to get out to more than 25 small native villages during the time I was Regional Administrator. Seeing their challenges with climate changes, melting permafrost and coastal erosion…I admired the people and the landscape. And I would like to get back to Bristol Bay and the areas around Nushagak and Kvichak. They were fabulously beautiful.
From the Pebble Watch archives:
EPA representatives share impressions of Bristol Bay visit
PHOTO GALLERY: During the development of the Bristol Bay Watershed Assessment, EPA Administrators visited several communities in Bristol Bay to hear from residents and provide updates. The agency also held public input hearings in Anchorage and Seattle.