Who is First Quantum Minerals Ltd?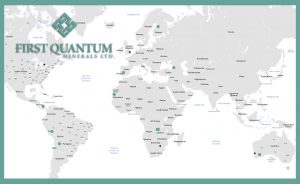 First Quantum Minerals based in Vancouver, Canada, has mining projects on several continents. While First Quantum has dipped its toe in Alaska waters, through a brief partnership with Millrock Resources for an exploration project on the Alaska Peninsula, the Pebble mine would be its first North American project.
The company has six operational mines, one that is on pause due to low nickel prices, and four more under development. Four of its operational mines are nearing the end of their life spans (within the next 2-8 years).
First Quantum is developing Trident (copper/nickel) in Zambia, Cobre Panama (copper) in Panama, Taca Taca (copper/gold/molybdenum) in Argentina and Haquira (copper) in Peru. Bringing the Cobre Panama project online is one of First Quantum's main objectives, and it will continue those efforts concurrently with its involvement in the Pebble mine development.
First Quantum employs more than 13,000 people worldwide. Its "make-it-happen" work culture is designed to allow people to grow and "act in a bolder, smarter and more driven way."
Environmental Policy & Sustainability
According to First Quantum's Environmental Policy, it subscribes to the "Equator Principles," a risk-management framework that helps manage environmental and social risk in projects. Along with assessing environmental and social risks and impacts of a project, the Equator Principles call for effective Stakeholder Engagement.
In a 2016 Sustainability Report, First Quantum CEO Philip Pascall says that in every initiative "we assess our strategic objectives relative to the varied expectations of our stakeholders. In many instances that means reconciling divergent interests and even identifying where tradeoffs may need to be made."
Projects
Going Strong
Kansanshi
Type: Copper-gold, conventional mining, 2 open pits
Location: Zambia
Life span: 17 years
Employees: 1,700
Of Note: Largest copper mine in Africa. Has been expanded several times since opening in 2005. FQM holds 80% interest.
Sentinel copper mine
Type: Copper, conventional open-pit mining
Location: Northwestern Zambia
Life span: 2033
Employees: 2,231
Of Note: Came into commercial production in November 2016.
Short life span
Çayeli
Type: Copper-zinc, underground bulk mining methods
Location: Northeastern Turkey
Life span: 2019
Employees: 493 employees
Of Note: Largest underground base metals mine in Turkey.
Pyhäsalmi copper-zinc mine
Type: Copper-zinc, underground using open-stope mining methods
Location: Central Finland
Life span: 2022
Employees: 210
Of Note: Developed as open pit in 1962
Las Cruces
Type: Copper, conventional mining, open pit
Location: Southern Spain
Life span: 2022
Employees: 250
Of Note: On-site processing plant produces copper cathodes
Guelb Moghrein copper-gold mine
Type: Copper-gold
Location: Mauritania
Life span: 2025
Employees: 1,470
Of Note: Ongoing exploration of more than 5,500 sq. km.
On pause
Ravensthorpe
Type: Nickel
Location: Western Australia
Life span: 32 years
Employees: 405
Of Note: Currently on "care and maintenance" due to low nickel prices.
Read more
Northern Dynasty finds permitting funder, potential partner