EPA responds to people of Alaska with surprise announcement
The agency is not rescinding proposed restrictions at the Pebble prospect
On Friday, the Environmental Protection Agency (EPA) announced its decision related to whether to withdraw a 2014 "Proposed Determination" that had recommended protections for Bristol Bay. In a surprise move, EPA's Chief Administrator Scott Pruitt said the agency was "suspending" the action to withdraw the Proposed Determination. He cited public input from stakeholders and the people of Alaska, who submitted more than a million comments.
"It is my judgment at this time that any mining projects in the region likely pose a risk to the abundant natural resources that exist there," Pruitt said. "Until we know the full extent of that risk, those natural resources and world-class fisheries deserve the utmost protection." Pruitt also took credit for making it possible for developers to submit a permit application, although the EPA's 404(c) process never precluded submission of those documents, nor activities associated with the normal permitting process. A permit cannot be granted during the course of the 404(c) process. Developers have stated that they did not choose to submit a permit application since the 404(c) "pre-emptive veto" was essentially hanging over their heads. And the permitting process is not only time-consuming, but expensive as well.
So what's the bottom line? The Proposed Determination remains in place while permitting proceeds. As per the May 2017 settlement agreement, EPA cannot move forward with a Recommended Determination until May 2021, or until the U.S. Army Corps of Engineers issues its final Environmental Impact Statement (EIS), whichever comes first.
May 2021 might come first. Although developers expect permitting to last 3-4 years, a recent large-scale Alaskan mining project, Donlin Gold, is still in permitting after five years. Developers submitted a permit application in December 2012 and the final EIS is anticipated to be released early this year.
If you're confused by the whole 404(c) process and what it means, you aren't alone. Here's our history of the EPA's involvement in Bristol Bay, and a chart of the process.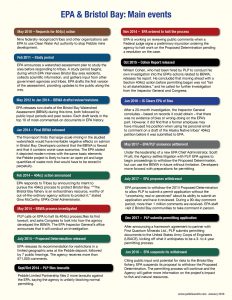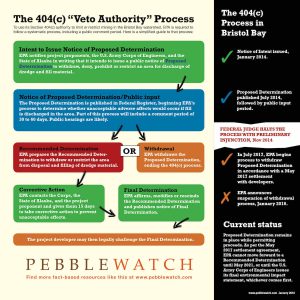 Read more
EPA press release on latest 404(c) action
In reversal, EPA deals setback to controversial gold mining proposal in Alaska – Washington Post, January 26, 2018
EPA's unexpected decision welcomed by Pebble opponents – Alaska Journal, January 27, 2018
Alaska Governor Bill Walker press release: "Federal Regulators Respond to Outcry…" – January 27, 2018
PLP news release: "Permitting for Pebble on Track" – January 27, 2018