EPA representatives share impressions of Bristol Bay visit
The blog Greenversations has posted first-hand accounts of visits to the Bristol Bay region by U.S. Environmental Protection Agency (EPA) officials Dennis McLerran and Nancy Stoner (pictured in New Stuyahok, at right), part of the watershed assessment team that came to the region in early June.
McLerran, EPA's Pacific Northwest Regional Administrator, called the trip "extremely valuable," saying the team visited communities as well as project developers, whom they asked for an update of environmental studies and mine planning.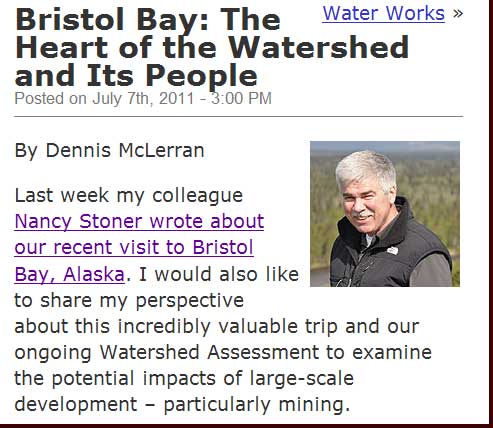 "The trip took us to the heart of the watershed and gave us a rare opportunity to travel to the villages that are most concerned about our Watershed Assessment," wrote McLerran. "We heard from supporters of mining development as well as those who believe large scale mining would be inconsistent with the preservation of subsistence ways of life and the Bristol Bay fishery. The ability to see the watershed, the villages, Bristol Bay and the proposed resource development area firsthand is something that could never be matched by pictures or PowerPoint presentations. It is a trip I will never forget." Read the entire post at Greenversations.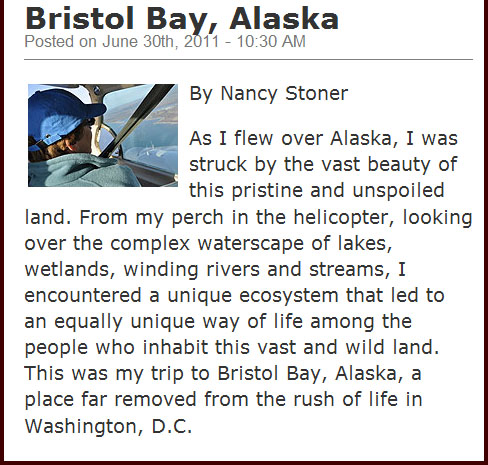 Acting Assistant Administrator for EPA's Office of Water, Stoner was visiting from Washington, D.C. She wrote: "As I flew over Alaska, I was struck by the vast beauty of this pristine and unspoiled land. From my perch in the helicopter, looking over the complex waterscape of lakes, wetlands, winding rivers and streams, I encountered a unique ecosystem that led to an equally unique way of life among the people who inhabit this vast and wild land." Read the entire post at Greenversations.
Greenversations is an official EPA blog, but its entries run with a disclaimer that opinions expressed there do not reflect EPA "policy, endorsement or action."
More on this topic:
A June Pebble Watch post provides an account of the community visits from Pebble Watch and BBNC representatives.
Another summary appears in the July Pebble Watch newsletter, coming out this week.