Bobby Andrew, longtime activist for Bristol Bay, passes
Yup'ik Elder Bobby Andrew, who had spoken out for years against the development of the proposed Pebble mine, died May 12 of natural causes at his cabin at Lake Alegnagik. The 72-year-old had frequently travelled far beyond his native Bristol Bay to speak out about the impact he believed the mine would have on the fishery and the people of the region. He spoke to legislators in Washington D.C. and to Anglo American and Rio Tinto mining executives in London (companies that subsequently pulled away from the project). He testified to the U.S. Environmental Protection Agency in support of its Bristol Bay Watershed Assessment, and pushed for the agency to complete Section 404(c) proceedings that would limit development at the Pebble deposit.
Locally, he had served on the Alegnagik Tribal Council, the Nushagak Mulchatna Watershed Council, and the Nushagak-Mulchatna Wood-Tikchik Land Trust, and as spokesperson for Nunamta Aulukestai (Caretakers of Our Land), an association of eight Alaska Native villages in Bristol Bay. Andrew was a central character in the 2013 documentary film, "We Can't Eat Gold," in which he states, "We can't eat gold, but we can eat salmon."
Photo credit: Giovanna Marcantonio. Bobby Andrew on the set of "We Can't Eat Gold."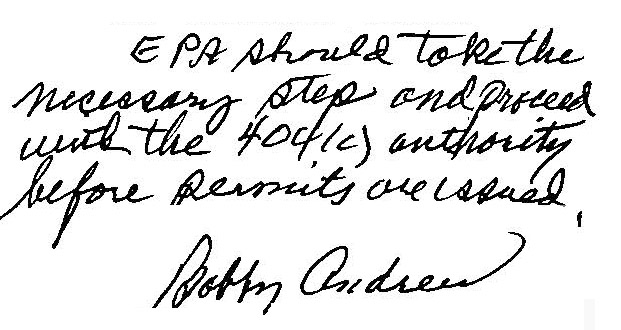 Image credit: EPA public document. Bobby Andrew testified to the EPA numerous times in support of protections for Bristol Bay.
Links to some of Bobby Andrew's work speaking out about Pebble mine:
2014 Interview with Bobby Andrew, IC Magazine
"We Can't Eat Gold" documentary trailer
2010 op-ed in The Guardian, London newspaper